E. C. Hadley
---
Taken from the Assembly Bulletin, October 1991
Grace & Truth, 210 Chestnut St., Danville, IL 61832, USA
Phone: 217-442-1120; FAX: 217-442-1163; Internet: http://www.gtpress.org/
---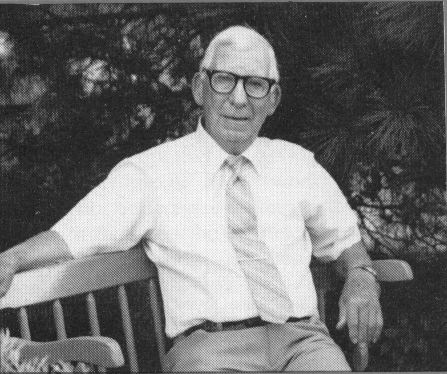 Elmo Clair Hadley was born in Iroquois County, Illinois on December 10, 1894. His parents were Quakers and the family later moved to Alabama, and from there to Indiana. He was called home in September, 1981 at Danville, Illinois.
At the age of 17 our brother went to Kansas to work in the wheat harvest. There the Lord brought him in contact with a mission school and later with Mr. Reed, a missionary who accompanied him to that portion of French West Africa now known as the Mali Republic. At this time he was working with the Gospel Missionary Union.
During a furlough to Switzerland with a fellow-missionary he met Lydia Chevalley, the sister of this friend. They were later married in the heart of the French Sudan. For six years he labored in Bible translation work, ministry, and preaching the gospel in Africa. Persistent malaria eventually forced him to leave this field, but the experiences of those years left an indelible mark on his life.
By this time brother Hadley had severed his ties with the mission, having taken his place in practical fellowship with the assembly at Lausanne, Switzerland. After two years in Europe he returned, with his wife and two daughters, to Illinois and settled in West Hillery, becoming a part of the Danville assembly. His service for the Lord continued with unabated zeal, but now primarily in pastoral and teaching ministry among assemblies of the Lord's people in the U.S.A. and Canada.
In 1931 he started the Grace&Truth publishing work, printing tracts on a press on his kitchen table. This work was a faith work: the tracts were sent out freely to distributors who would prayerfully pass them on. Our brother had a vision of tracts going out throughout the whole world. In the course of the years, tracts in many languages have gone out from Grace and Truth to all parts of the earth to the salvation and blessing of countless numbers of needy souls.
The monthly magazine GRACE & TRUTH was begun by Brother Hadley in 1933 as a source of spiritual food for believers who ordered tracts and for those in the assemblies. Much valuable ministry, was written by our brother in his capacity as editor and publisher of this little magazine, some of which continues to be used for blessing in booklet form today.
Brother Hadley was gifted in teaching the great truths of the Word of God and always sought to apply them practically in ministry and in his own life. He spent his life and boundless energy serving the Lord among the North American assemblies and made a number of trips abroad to Europe, Egypt, Lebanon, India, Australia, New Zealand, and Jamaica. On these trips he not only ministered the Word but labored perseveringly in difficulties among believers, serving the Lord in lowly humility publicly and privately. He enjoyed the confidence and respect of brethren in many lands and the deep gratefulness of many in whose lives the Lord had quietly used him for help and blessing. His Life was truly spent "in journeyings often, in weariness and painfulness, in watchings often," and in labors abundant in his life of devoted service to the Lord Jesus Christ.
The Lord blessed brother and sister Hadley with five children: Anne, Paulette, Paul, John, and Sam, all of whom love the Lord and seek to walk in His ways. Sam has managed the work at Grace&Truth which his parents began for a number of years now.
Brother Hadley's resourcefulness and inventiveness were tremendous, and in his final years continued to reflect in his garden. Only this past spring did his family succeed in cutting down the size of the huge vegetable garden in which he labored when he could no longer travel among the assemblies. After the Lord called home his dear wife and faithful companion of half a century, he was graciously cared for in his failing years by his sister-in-law, Julia Chevalley, who had lived with the Hadleys for many years while laboring at Grace and Truth.
Our brother was a humble man, a man of prayer, firm in the faith, dependent upon the Lord, and of much practical faith. We praise God for his diligent, edifying labors of more than fifty years among us.
"Remember your leaders who have spoken to you the word of God; and considering the issue of their conversation, imitate their faith" (Heb. 13:7 J. N. Darby translation)